In this article, we will look at a relatively straightforward tutorial that many of us should have an idea on now since some of us, if not most, are into cryptocurrency – How to add a custom token on Trust Wallet.
Trust Wallet is a multi-coin wallet designed to make managing many different coins and tokens simple and easy. Guarda supports many major cryptocurrencies and thousands of tokens.
Tokens are different from coins. Coins are just payment methods, while tokens may present a company's share, give access to a product or service and perform many other functions. You can use coins for buying and selling things. You can buy a token with a coin, but not vice versa.
For example, XRP is a token used for representing a transfer of value across the Ripple Network. Unlike bitcoin, where new coins are created (up a capped level) as rewards for participants offering computing power to maintain the blockchain network, Ripple began 100 billion XRP coins at its inception. As a newbie, all these should look confusing, but you will understand what this means over time.
Let's not try to get ourselves confused here. Since today's tutorial is all about how we can add custom tokens on Trust Wallet. We shouldn't try to stray much from the topic. So without further ado, let's dive into today's tutorial.
Since Trust Wallet is a multi-coin wallet, we will be using the term multi-coin wallet interchangeably with the Trust Wallet. Before we think about how we can add custom tokens on Trust Wallet, let's first learn how to get our multi-coin wallet to store them. Therefore, the question is how to create a multi-coin wallet.
As usual, the first thing you need to do is to download the Trust Wallet app on your smartphone. Android users can download the app from Google Playstore, while iOS users can download the app from the iOS store.  After downloading the app, the next thing to do is:
1. Launch Trust Wallet
Upon the app's first launch, you will see something similar to what is on the screen below, which is the part where you can "Create a New Wallet" or "Import" an existing one. For this guide, we will select Create a New Wallet.
2. Accept Terms of Usage
To proceed, you would need to accept the Terms of Usage. Put a checkmark at the box, then press on Continue.
Warning!
If you agree to to the terms of usage please be aware that, losing your recovery phrases will also mean that you lose access to your wallet.
3. Save your Recovery Phrase
Saving your recovery phase is an essential part of your crypto journey. It would be best if you took note of your recovery seed phrases. Your recovery phrases are the keys to your crypto wallet. So make sure to keep them in a safe place. Tap on Continue to proceed.
Note
This is a real recovery phrase for an actual multi-coin wallet.
Does it contain anything? We will never know.
4. Verify your Recovery Phrase
If you followed Step 3 and backed up your recovery phrase, this will be a breeze. In the correct order, select the words to complete the verification process. Click Continue when you are finished.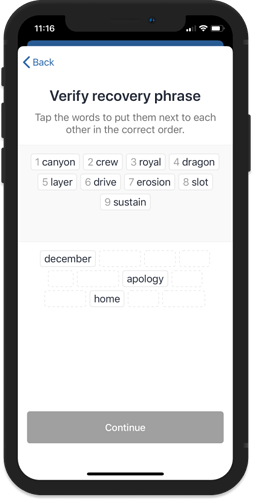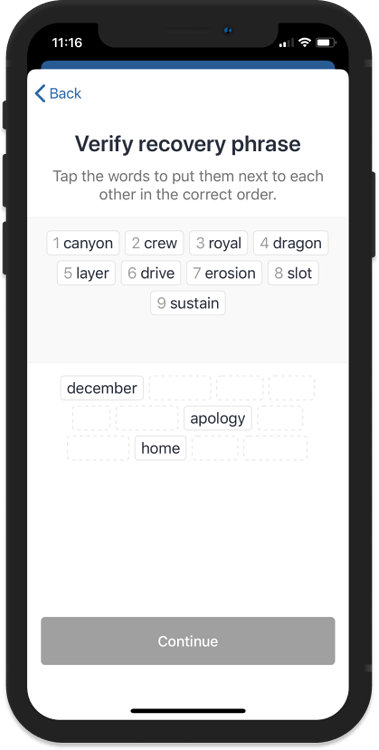 5. Wallet is Ready
After going through the backup and verification process, you will be redirected to the main wallet screen. You will see an initial list of coins that you can start funding right away. Congratulations!
6. Personalize Your Wallet
You can set the name of your wallet so that you can easily recognize it. This change is only a local setting on the app and can be changed at any time. Go to the Settings menu, then tap on Wallets.
Next, tap the I symbol beside the wallet that you want to personalize. Save it, and you are done.
Fortunately, we are done with how we can set up our very own multi-wallet. Now we get to take a look at how we can add a custom token on Trust Wallet.
How to add a custom token on Trust Wallet
There are basically two ways you can add a custom token on Trust Wallet. For the first method, you tap on the toggle sign on the upper right corner of the Wallet Screen. Paste any available address in the area where Search tokens are written. If the address is a valid one, the token should appear. Toggle it on to add it to your wallet.
You can also add a custom token on Trust Wallet by tapping on the toggle sign on the upper right corner of the Wallet Screen. Search for the token. If the token is not available, you will get a "No Asset Found" screen with the Add Custom Token button. You can scroll down to the bottom of the list of available tokens for Android devices, and you will see there + Add Custom Token.
Carefully fill up the required Token details. Tap on Done once you are done. If you get the token's contract address token by any chance but not the Token Name, Symbol, and Decimal, you can use Etherscan to get all of that info.
All you need to do is go to the Custom Token Address: https://etherscan.io/token/0xad6a6e78f3bb441fb3127e8056686aa327dc3480 to get all the missing info I need to fill to add the token to my multi-wallet, given that the token address available to me is 0xad6a6e78f3bb441fb3127e8056686aa327dc3480.
On the main wallet screen, the token will now appear. Since this is still a new token, the logo and the price will not be available. The token has to be trading first and listed on CoinMarketCap before the price can be properly displayed on the App.
It will help if you join our Telegram channel as we will be dropping the contract address of different tokens from time to time. Do not forget to share this tutorial with your friends who need it and if you have any questions, please drop them in the comment section below.