The latest Microsoft Windows 10 operating system has an in-built OneDrive system that allows you to back up your computer's Desktop, Documents, and Pictures folders automatically. The OneDrive has a feature formerly called 'Folder Protection.' It lets you back up the contents of your Desktop, Documents, and Pictures folders to OneDrive so that you won't lose anything if anything bad happens to your computer.
We are going to take a look at how you can automatically back up your Windows folders to OneDrive. The process is straightforward, all you need to do is to follow them.
How to automatically back up Windows folders to OneDrive
If OneDrive is not installed on your PC, visit this link and download & install the program.
Now right-click on the OneDrive icon posited in the system tray.
From the list of options, click on Settings.
Next, switch to the Backup tab, and under the Important PC Folders, click on Manage back up.
By default, OneDrive backs up the Desktop, Documents, and Pictures. If you want to include other folders such as Videos, you need to change the path. For example, if you want OneDrive to backup the Video folder, right-click on the Videos folder and select Properties.
Next, switch to the Location tab, as shown in the screenshot below.
On the Location settings, click on the Move option as shown below.
On the Folder dialogue box, select OneDrive. You can either store videos on any existing folder on OneDrive, or click on the New Folder button to create a new folder. Once you have chosen a folder, click on the Select Folder option.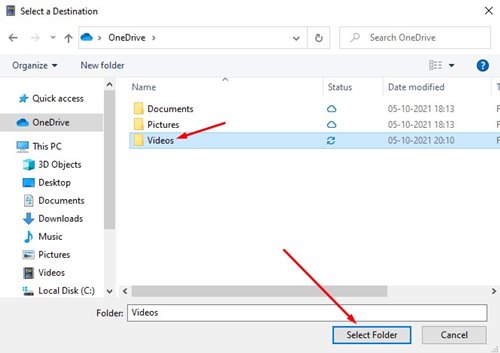 The location of your Video folder will be changed. Click on the Ok button to apply the changes.
This process should help you back up your video folder to OneDrive, repeat this step for Downloads, Music folders and any default Windows folders if you want them to be backed up to OneDrive as well.
This method works only for default Windows folders, if you've created other folders in different locations that you'd like to be backed up to OneDrive, you can move them into OneDrive, but that's not always a suitable solution.