Microsoft has an anti-malware component called the Windows Defender.  It was first released as a downloadable free anti-spyware program for Windows XP and was later shipped with Windows Vista and Windows 7.
It is a well-known tool in Windows 10 but it was known as Windows Defender Antivirus before the Windows 10 May 2020 update. The Windows Defender serves so many functions:
Real-time protection: It detects threats in opened files and scans apps in real-time as they are installed on the device. This monitors computer systems for suspicious activity such as computer viruses, spyware, adware, and other malicious objects.
Browser integration: Integration with Internet Explorer and Microsoft Edge enables files to be scanned as they are downloaded to detect malicious software inadvertently downloaded.
Application Guard:  This is a feature exclusive to Microsoft Edge that allows you to sandbox your current browsing session from your system. It prevents a malicious website or malware from affecting your system and your browser.
Controlled Folder Access: This is a feature released by Microsoft to protect a user's important files from the growing threat of ransomware.
The Windows Defender is available on Windows 11 and like its counterparts, Windows 8 and 10, the Windows Defender is on by default. One truth about this tool is that it consumes lots of system resources.
Also, if you plan on installing an app deemed to have a virus by the antivirus tool, you can easily disable it to install the app on your PC. So, in this article, we will be taking a look at how to go about disabling the Windows Defender in Windows 11.
How to disable Microsoft Defender in Windows 11
Open Windows search and type in Windows security. Then, open the Windows security app from the list.
Click on the Virus & threat protection section.
Click on the Manage Settings under the Virus & threat protection settings.
Disable the Real-time protection, Cloud-delivered protection, and Tamper Protection feature on the next Window on the right pane.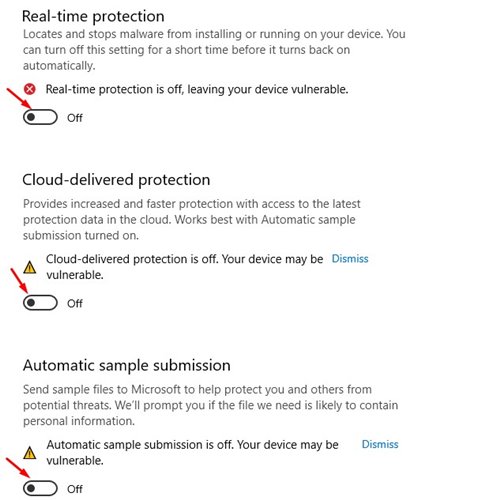 Select the App & Browser control option on the left pane.
Click on the Reputation-based protection settings on the right pane.
Disable the Check apps and files and Potentially unwanted app blocking option on the right pane.
With that, you should successfully disable the Microsoft Defender on your Windows 11 PC. You should only disable this feature if you have other reliable security applications installed on your PC. Don't forget to