All Android devices (including other kinds of devices) come with pre-installed apps, some are useful while some are busy occupying unnecessary space. Since some of these apps have no use as all they do is run in the background and slow down the device, there's no need to keep them. Well, I'm going to show you different possible ways to remove this bloatware (unwanted software included on a new computer or mobile device by the manufacturer) from your Android device.
How to remove pre-installed apps on Android devices
There are several methods you can use to remove bloatware from an Android device whether for a rooted or non-rooted device. However, there are more options to take in order to remove these apps from rooted devices and just one option for non-rooted devices. In this section, we are only going to be looking at one method for rooted and non-rooted devices.
1. Using a non-rooted Android device
The first thing you need to do is to enable the developer option on your Android device. How to go about it? Head on to phone Settings > About Phone > Build Number (Tap on build number 7-10 times to get your developer options activated).
Once the developer option gets activated, it should be available in the settings menu, tap and open it, scroll down and enable USB Debugging.
Get a PC and download the Debloater tool. Connect your Android device to your PC via a USB cable and wait for the PC to detect your device.
After the device is detected, you will need to scan the apps currently installed on your device, including your system apps. Now, select the apps that you want to remove by clicking on the Apply button. This will block remove the selected apps from your device.
2. Using a rooted Android device
You need to root your device before you can carry out this procedure. Here's a tutorial on how to root your Android successfully without having to void the warranty.
Once you've rooted your device, download System App Remover from Google Play Store. Launch the app and open the menu. From there, select the option System App.
Select the app that you want to remove and tap on Uninstall.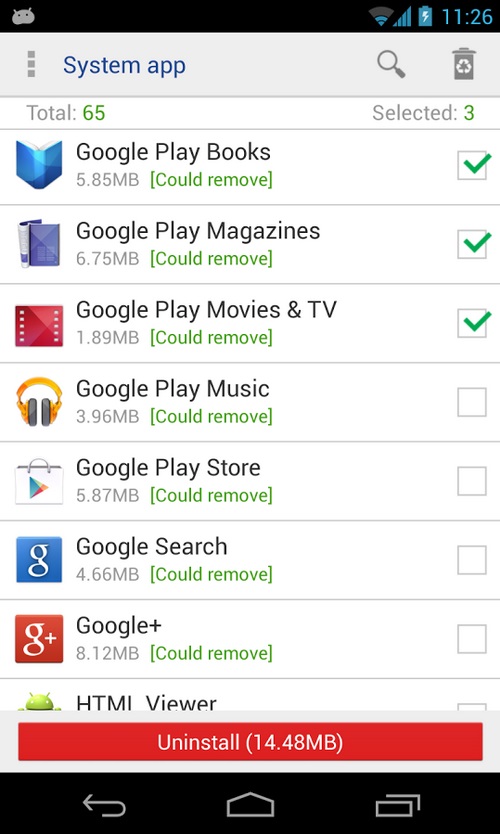 That's it! You are done. This is one of the easiest ways to remove bloatware from your Android smartphone. That's all I can share with you on how to remove pre-installed apps (bloatware)on Android devices. There are multiple ways to go about it on rooted devices as those methods require little more work.
Notwithstanding, I shared with you one of the easiest ways to remove bloatware from your Android device. If you find this tutorial helpful, do well to share this with your friends using any of the social share buttons below.