Finding a good web hosting provider that will suit your budget and need is difficult to come across as there are so many web hosting providers on the internet at the moment that offers and also lacks traits that you might want. As someone who has used up to four (4) different web-hosting providers, I can tell you that after this Qservers review that we are going to cover in this article, you might want to try it out.
I have used Whogohost, Domainking, Qservers, and Hub8 hosting providers. At the moment, I make use of Hub8 and use it to host this blog and also for the domain name. There's no real need to ask why I make use of Hub8 instead of QServers since I'm doing a "QServers Review."
The real truth is that I found something in Hub8 that QServers lacked, and that is cheap web hosting plans that suit me. It sounds funny to the ears but that's the truth, this does not mean that QServers does not also have something that Hub8 doesn't have. Just as the popular saying goes, "everything that has an advantage, has a disadvantage," so don't think that Hub8 is far better than QServers, as there is something that you might be missing out on by not using QServers.
Enough of the talk about Hub8, if you want to know more about Hub8 hosting services, I kindly urge you to read this article on how to open a blog for free with Hub8 web hosting as we continue with this QServers review. Now, the question to ask, is QServers Nigeria's best web host? I hope this review will help you know all that you need to know about QServers.
---
QServers review
---
QServers has been around and in business since the year 2004, this makes them very trusted by many individuals, both in and outside the country, Nigeria. Just like the majority of the web hosting companies around, this QServers offers the following services; domain name registration, web hosting services, website design services, SSL security, VPS and dedicated server hosting. We are going to take a look at some of the services that are being offered by this web hosting provider, let's go on.
---
QServers services
---
1. Domain names
With more than 20 thousand domains under their management, this web hosting provider has as many experiences as any other popular Nigerian registrar. Most Nigerians trust to be their domain provider. Since the right domain name can set you up for future success, you don't want to mess around.
QServers boast of having one of the cheapest domain registration fee in the business and Nigeria, you can own a domain name for as low as N1,000, even that is something that Hub8 cannot offer. You see why I also added that QServers also has something that Hub8 does not have and that is a cheap domain name.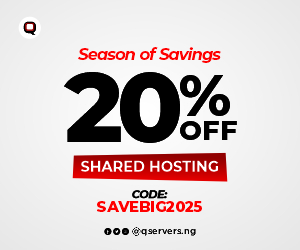 There are some features that you will also get when you purchase a domain name from QServers and they are;
Privacy Protect service: Privacy Protect service removes much of your Whois publicly accessible information the database to ensure your privacy online. WhoisGuard also reduces spam and protects you against identity theft.
Total DNS Control: Get full DNS management features directly in your client area. Features include URL & Email forwarding, DNS record manager as well as real-time record modification.
2. Web hosting
QServers is a web hosting expert with more than 12 years of experience in managing servers for hosting purposes that aim to remain as one of the best web hosting providers in Nigeria and worldwide.
Their shared hosting servers are secured by multi-layers of security protections, together with redundancy capabilities that will ensure maximum service uptime for all users. Our servers are constantly monitored by automated software systems as well as humans, to ensure the high availability of all system resources to all users.
Their web hosting is great for static websites, database-driven content management systems, and custom applications. You will get;
Free Instant Setup: Paying online with your ATM card (Available 24/7/365), instantly provisions your hosting package and your web space details are sent to you by email.
Free Website Migration/Transfer
99.99% Uptime Guarantee
Daily & Weekly Remote Backups
Managed Servers
Free.Com.Ng Domain:  QServers is giving away free registration & renewals of the .com.ng domain with any annual hosting package ordered!
Full User Support: Their team is always on hand to assist you 24/7 with any issues you might have by Phone, Chat or Email.
Website Building Tools: Website Building tools available from softaculous in CPanel Area.
Speaking about the website building tools that can be found in the CPanel area, the CPanel is a backend administration interface that makes it easy for you to manage your website. QServers CPanel has features such as;
Easy to use, friendly interface
Website building tools included
Create new email accounts easily
Easily create and manage databases
You can get a hosting package from QServers for as low as N350/month, N3,500/year and as high as N1,700/month, N17,000/year. Here's an offer for you – get a free .com.ng domain name and 2GB Space + 8GB Bandwidth + Free SSL Cert for N3,500 Only!
3. SSL Certificates
SSL certificates ensure your website is encrypted & safe from any would-be cyberbullies. Affordable, secure & easy to install. If you're serious about doing business online, you need SSL. It's the best way to protect user data and defend against identity theft. Many customers will refuse to do business with a website that doesn't have an SSL certificate. This can lead to lost revenue, unhappy customers, and a tarnished reputation.
The primary reason why SSL is used is to keep sensitive information sent across the Internet encrypted so that only the intended recipient can understand it.
This is important because the information you send on the Internet is passed from computer to computer to get to the destination server. We can help you protect your site and ensure it stays protected, giving you more time to focus on your business. For this, QServers provides you with the SSL certificate that you need for your business whether free or paid.
Now that we have looked at some of the services that QServers is set to offer, why don't we look at some reasons why you should choose QServers as your web hosting provider.
---
Why you should choose QServers
---
Support: They've got an awesome, responsive team that's there 24/7 to give you helpful website advice. You can contact them any way you'd like: phone, chat or, ticket! Whether you've got an issue with your site, or just a simple question, they're here to help! Phone and chat support is 8 am to 7 pm Mondays – Saturdays.
Uptime: Your website and applications are essential when it comes to the success of your business. At QServers, they know that if your network or servers are down, you are losing revenue and opportunities. That's why this set of individuals provide a 99.9% server uptime for your site.
Scalable: As your organization grows, technology should grow together to suit your needs. So choose the right plan to suit you and your company's needs for today and be covered for tomorrow when the needs arise.
Data backup: QServers provide daily/weekly remote backups of all your data for continuous data protection. Their RAID level 1 storage ensures that your data are completely mirrored and protected against hardware failure.
---
How to get started with QServers
---
First of all, type qservers.net in your address URL or click here to go to the QServers website. Look at the top corner and click Manage Account, look for the sign-up button and click on it. Then you should be taken to a page where you'd be asked to fill a form that will include your name and other things, do that.
After doing that, you have successfully signed up and created an account with QServers. It's time to purchase any of their services which should be most likely one or more domain names or web hosting services.
If you are using a smartphone, just look at the top bar or take a look at the screenshot that I'm going to provide below and click Hosting to purchase a hosting plan or click Domain Names, if you want to purchase a domain name.  There's also a way to make money from QServers and that is by joining their affiliate program.
---
How to make money from QServers affiliate program
---
One thing that I like about web hosting providers is the fact that they allow you to become their affiliate and make money by referring people to their platform. QServers affiliate program is free to join, it's easy to sign-up and requires no technical knowledge. Monetize the traffic to your site and get paid CASH just for recommending QServers to the public.
When you join the QServers affiliate program, you will be supplied with a range of special banners and textual links with unique affiliate identification numbers that you place within your site. When a user clicks on one of your links, they will be brought to our website and their activity will be tracked by our affiliate software.
Once the client makes payment for a product/service, you could be credited with as much as 20% of the paid amount. You will earn a one time commission based on your commission type.
You've been provided with all of the tools necessary for you to convert your existing traffic into sales. All you have to do is Sign Up for an affiliate account, place a link or banner to your site, and for every sign up they receive, you earn money. It's that simple.
You get to earn up to 20% one-time commission per referral! You can withdraw your accumulated funds once you have a minimum balance of N3000.00.
---
3 Simple Steps to Start Earning Money Today via QServers affiliate program
---
Register with the QServers Affiliate Program.
Place links or banners to QServers Hosting from your website.
Earn money for each customer you recommend that purchases hosting.
---
Rewarding Features
---
Initial Commission – Get N500 just for signing up!
Timely Payouts – Approved commissions are paid out by bank transfer.
System Easiness – No technical knowledge needed, anyone can be an affiliate.
---
Ways To Recommend QServers
---
Adding their ad banners and ad texts on your website. Ads are located in your client area.
By adding your unique ads to Emails, forums or SMS.
Word of mouth. Recommend QServers hosting services to your friends and family. This is the best way that I refer people to join QServers.
To conclude everything, QServes will migrate your active CPanel hosted account for free! All you need to do is to order & pay for the domain name transfer + hosting package. Once payment is done you will need to fill out their transfer form and your site will be migrated within 24 hrs.
I hope that after reading this QServers review you were able to grasp as much knowledge that pertains to this web hosting service and after reading this, you should know if it is really Nigeria's best-rated web host, I hope to hear your thoughts below.